Car trip to Bear Mountain & West Point, New York
The trip took place in July 2012. It was the second time I was  in New York this year and second time I rented a car. The driving time from Brooklyn to Bear Mountain is approx. 1,5 hour and then 15 minutes to West Point, so I think it's a good combination of these two awesome places in one tour. Below you can see the route I took:

On this tour I had rented a 'DODGE Avenger' from BUDGET on East 87th >street. This is an amazing car and I can recommend the Agency. Click on the picture.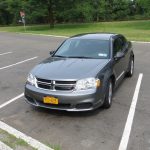 The first stop was Bear Mountain and this State park is amazing. It was a pleasant Saturday and lots of people had BBQ in the park.
There was also a HUGE swimming pool  and the children had a blast.
After a pleasant rest and a good lunch, I headed for West Point , which is a famous military academy.
I was glad that I had my GPS this time.  Unlike my trip to Montauk in May.
West Point has a lot of security as it still functions as a military facility.
When I was approaching, I had to stop at a control post, where I should show my ID and the trunk of the car was inspected. Further more I was questioned why I was coming to West Point. I felt that I was the first tourist visiting West Point.
At first I was thinking just to look at the various buildings etc, but at the visitors center I saw that there was some guided tours, which I then attended.
We were taken by bus outside the facilities to a place called Fort Putnam , which was a facility used during the revolutionary war.
It was a quite interesting tour, so IO was glad to have attended.
After this tour, we went back to West Point, where we was guided around the facilities, including a grand church.
I can highly recommend this tour, if you by any chance are visiting West Point.
After a most pleasant afternoon, I went back to New York City, where I crossed GWB and ran into rush hour at FDR.
Later I crossed Brooklyn Bridge, which was a great experience after just have been walking over.
Read my New York Insider Tips: